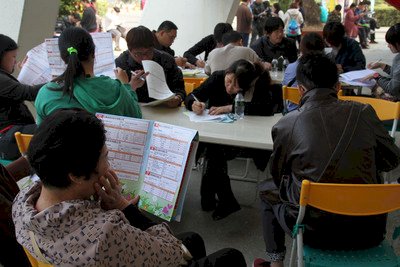 Taiwan's unemployment rate edged up 0.07 percentage points to 4.09% in February. That's the word from the government statistics office on Monday.
A total of 470,000 people were listed as unemployed in February. That's an increase of 8,000 people over the previous month. But when you look at the figures in terms of people who are employed, that number has actually dropped by 17,000 people. Of those, 6,000 were in retail and 4,000 were in construction.
The government statistics office said the bump in unemployment figures, is due to people changing jobs or ending temporary employment after Chinese New Year.
In addition, the government statistics office said that the jobless rate among people with at least a university degree edged up 0.13 percentage points in January to 5.03%.
Meanwhile, the unemployment rates for younger people saw slight increases. The jobless rate for people between 20 and 24 years of age went up 0.2 percentage points, while the unemployment rate for people between 25 and 29 went up 0.24 percentage points to 7.08%.