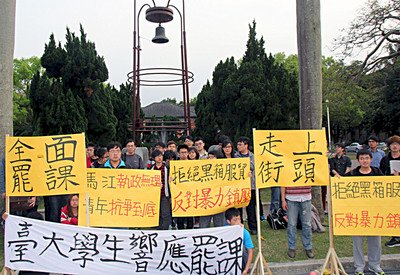 It's been class as usual at most of Taiwan's colleges and universities, ever since student protests began about a week ago. That's despite the fact that 40 student governments across the country have signed a petition opposing a trade deal that Taiwan signed with China last June.
National Taiwan University (NTU) student body President Lee Hsin-wen on Monday urged students to support the move by skipping classes.

"We hope that our joint efforts will attract more people to participate in the movement and make it stronger," said Lin. "[We] want to pressure the government to give us a positive response."
Meanwhile, NTU issued a statement saying that skipping classes is not the best way to solve disputes. NTU Secretary General Lin Dar-der spoke on Monday about the university's policy.

"[Our principles] are to ensure students' right to an education and to [act] in line with the rules stipulated by the education ministry," said Lin. "We respect the decision made by individual students and teachers to change the time and place for their classes if the preconditions are met."
NTU says that so far there has been no visible drop in the number of students showing up for class.