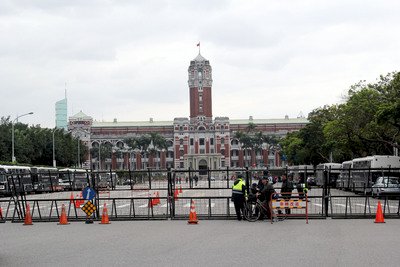 Presidential Office spokesperson Lee Chia-fei said Monday that the government will not tolerate any attempt to occupy public offices and interfere with normal operations. She was referring to a move by protestors to occupy the Cabinet building on Sunday night.

"The Cabinet is our nation's highest decision-making body and in control of the government's daily operations," said Lin. "The Cabinet building was broken into with violence. The actions of the protesters were in serious violation of democratic principles. Evicting the protesters was necessary to ensure the continued operations of the government."
Student-led protesters have occupied the legislature since March 18. They are demanding the renegotiation of a trade pact with China. Some of the protestors stormed the Cabinet building late Sunday night, only to be evicted by police in the early hours of Monday morning.
President Ma Ying-jeou, Vice-President Wu Den-yih and Premier Jiang Yi-huah met on Monday to discuss the ongoing demonstrations. It's been almost a week since the protests broke out after the ruling Kuomintang (KMT) tried to force the trade agreement through the legislature last week without a clause-by-clause review as had been promised.


Presidential Office spokesperson Lee Chia-fei said that the president and other participants of Monday's meeting thought the only real solution to the stalemate was returning the focus to the legislative process. She said that would include reviewing and voting on the trade agreement article by article.
Meanwhile, Lee said that President Ma has called for calm and reason. She said that he has responded to the threat of nationwide strikes by urging citizens to continue their daily activities as normal.