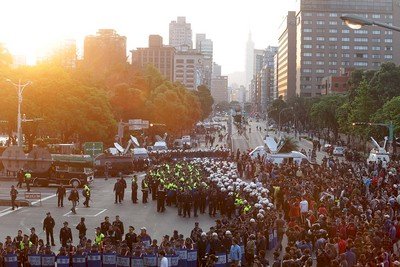 Thousands of riot police were mobilized late on Sunday night to disperse some 3,000 protestors who forced their way into the Cabinet compound on Sunday night.
A violent scuffle broke out between riot police, and protestors who shouted "safeguard democracy, withdraw the trade deal". Police used water cannons to disperse the protestors by 5am on Monday morning.
Several dozen people were injured in the scuffle – mostly slight injuries.
Thousands of college students have been occupying Taiwan's legislature since last Tuesday. While the sit-in protest has been largely non-violent, about 3,000 protestors turned their sights on the Cabinet building on Sunday night. That was after failing to receive what they called a positive response from the government.
At the heart of the protest is a trade in services agreement that Taiwan signed with China last June. The movement erupted after the agreement was pushed through committee without review.
Protesters say the trade agreement could deal a heavy blow to the local economy, jeopardize national security and hurt Taiwan's freedom and democracy. The government says, though, that without it, Taiwan risks further economic marginalization.
The protesters are demanding that the government restart negotiations with China over the trade deal. They also said that no trade talks with China should be allowed before new legislation is passed that would increase scrutiny of cross-strait agreements.