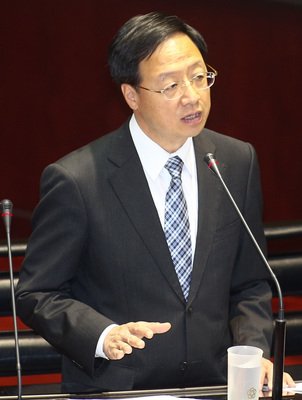 Premier Jiang Yi-huah says that Ting Hsin International Group's decision to donate NT$3 billion to set up a food safety foundation will not influence the judicial investigation into tainted oil products.
The Ting Hsin group announced it would be donating the NT$3 billion, or roughly US$98.7 million and shut down its oil manufacturing operations on Thursday.
Speaking at the legislature on Friday, Jiang said that he does not believe Ting Hsin's decision to donate the money represents and attempt to make up for illegal profits made by selling tainted oil. He also said he does not believe the donation is an attempt to make up for the damage that the oil scandal has caused distributors or a reaction to a class action lawsuit filed by a group of consumers.
During the meeting at the legislature, one KMT lawmaker asked whether the government should demand a recall of all products containing oil. The lawmaker said it is possible that there are more sources of tainted oil that the government has not yet discovered.
In response, Jiang said that he would be willing to ask all members of the association of edible oil manufacturers to sign an affidavit guaranteeing the safety of their oil. He said that the government would then focus on investigating oil produced by association members that refuse to sign.