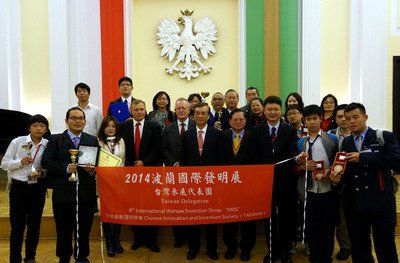 Taiwanese inventors have made a strong showing at the 2014 International Warsaw Invention Show, which ended Thursday.
Taiwanese participants snatched up 38 gold, 33 silver, and seven bronze medals during the two day event. Taiwanese entries included a self-cleaning litter box that understands voice commands, a musical camping lantern, a pair of adjustable ice skates, and a solar power system. Many of the Taiwanese participants were students at technical universities, while some younger participants came from middle schools.
The Chinese Innovation and Invention Society, the organization in charge of the Taiwanese delegation, said that Taiwan's youth have a great potential for innovation.
The International Warsaw Invention Show is currently in its eighth year. The event attracts hundreds of entries every year. In 2013, the event showcased more than 600 inventions from 23 countries.