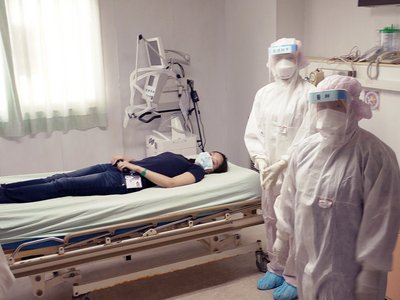 A Nigerian man who developed a fever on a flight from Taiwan to China has tested negative for Ebola.
Taiwan's Centers for Disease Control (CDC) confirmed Friday that the man had tested negative for Ebola after arriving in the Chinese city of Ningbo. The man had been in Taiwan for two days before flying to China. The CDC says that the man did not have a fever when he arrived in Taiwan.
Meanwhile, Premier Jiang Yi-huah discussed the ongoing Ebola epidemic with lawmakers at the legislature on Friday. He said that the government has designated hospitals to quarantine Ebola patients should any cases emerge in Taiwan. He also said that primary caregivers at these hospitals have been trained to deal with Ebola cases.
Jiang said that any travelers who develop fevers within 21 days of returning to Taiwan should notify hospitals directly rather than visiting ordinary clinics.
The Ebola epidemic has so far killed thousands in West Africa, with isolated cases also reported in Europe and the United States.