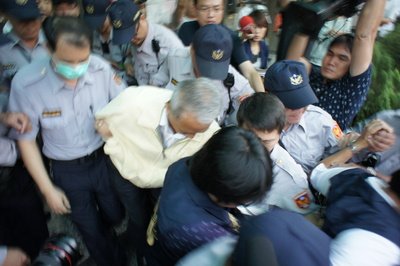 The Changhua District Court ordered that the former head of the Ting Hsin International Group, Wei Ying-chun, be held incommunicado after a hearing on Friday.
Subsidiaries of the Ting Hsin group allegedly sold lard mixed with oil meant for animal feed. This affected hundreds of food manufacturers using Ting Hsin oil in their products, including the prestigious I-Mei Foods Co.
The Changhua District Court also ordered the detention of Ting Hsin executive Tseng Chi-ming, who was in charge of the company's plant in Pingtung County. Both Wei and Tseng maintained their innocence. Wei's lawyer will appeal the court's decision on Monday.
Earlier in the week, the Ting Hsin International Group announced that it was pulling out of the oil business entirely. The group has also said it will donate NT$3 billion or roughly US$98.7 million to set up a food safety foundation.
The Ting Hsin group is just one of several companies involved in a food safety scandal that has shaken consumer confidence and seen products taken off shelves.