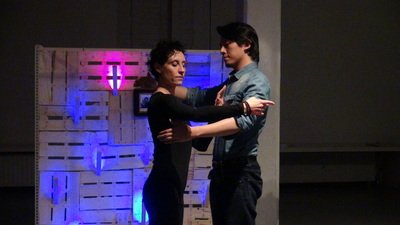 A heartbeat, a pulse, and brainwaves are just some of the elements in Taiwanese installation artist Ivan Liu's latest performance, which was staged in Brussels on Wednesday night.
Liu, a new media and technology artist, collaborated with dancer and choreographer Julie Magneville to create a unique form of storytelling for the performance. The piece, which is called "Between Two Universes, the Past is My Present to Your Future", strives to express the concept that it is easy to love but difficult to get along.
Liu's work is the result of a ten-week residency at iMal Center for Digital Cultures and Technology in Brussels.
According to the center's web site, Liu's latest piece "explores the notion that love is so profound that it changes the world for a person in love or losing love".
For Liu, the performance is also unique because it has brought him on stage, whereas in previous pieces he has largely remained behind the scenes.