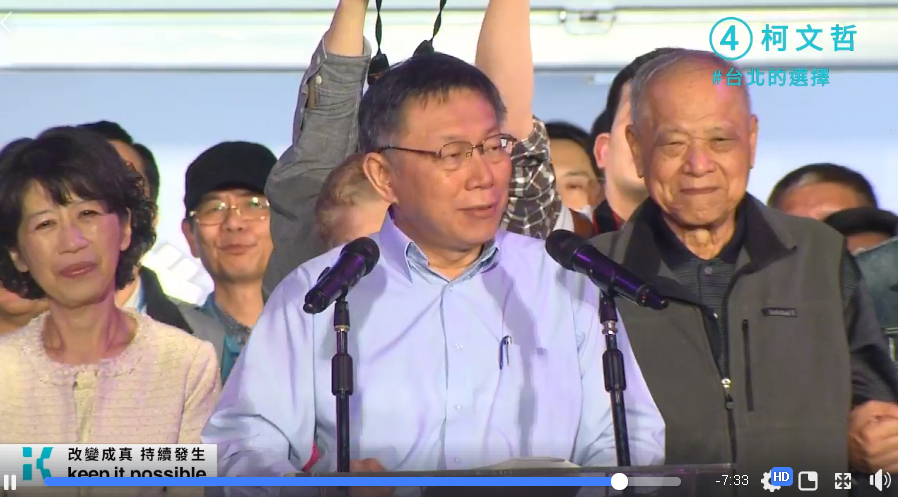 It took more than ten hours to tally the votes in Taipei City, in a tight race that saw incumbent Mayor Ko Wen-je squeezing past with a tight win over his main rival, the Kuomintang's candidate Ting Shou-chung. There was only a difference of a little over 3,000 votes between Ko, an independent, and Ting, with each garnering roughly 41% of the vote. A third candidate, the DPP's Pasuya Yao, came in a distant third with about 17% of the vote.
Ting is contesting Saturday's vote, saying he will bring the battle to the courts to order a re-count. His camp says that there were many irregularities in the voting process and they have called for the ballot boxes to be sealed in the event that they will be needed for a recount.
Election workers say the reason why the Taipei City election results came in so late -- about 4-5 hours after all the other races had been called -- was because the referendum tabulations slowed down the process.
Ko was thought the likely winner throughout most of the campaign, all the way up to the final week before the elections. A final push by the DPP is thought to have cut into Ko's support, luring some votes for Yao. Ting's support for three referendums by anti-LGBT forces is thought to have also attracted some more conservative voters. But in the end, Ko prevailed, winning a second term in office.