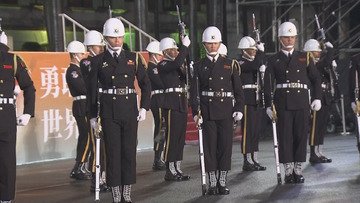 The flag-raising ceremony on New Year's Day has wowed the public. The ceremony, held on Tuesday in front of the Presidential Office, carried the theme of "bravery, self-confidence and in line with the world."
The flag-raising ceremony on New Year's Day started with a performance by Chien Kuo High School's marching band. The band featured jazz and flag-spinning. Last year, the school won the world championship at a competition organized by the World Association of Marching Show Bands.
A performance by honor guards from Taipei First Girls' High School was equally splendid. Despite the drizzle, students twirled rifles while changing position. The girls' high school and the all-male Chien Kuo High School are both top-ranked schools in Taipei.
A display by the army, navy and air force was also spectacular. Each solider carried an M1 rifle weighing six kilograms, receiving applause from the public.
This year, five naturalized citizens led the public in singing the national anthem. They are: Turkish entertainer Rifat, American-born basketball player Quincy Davis, a doctor born in Australia, a woman born in Vietnam and an ethnic Chinese individual born in Myanmar.
A competitive cheerleading team from the armed forces also took part in the flag-raising ceremony. They demonstrated skills such as high-flying basket tosses and shoulder stands.