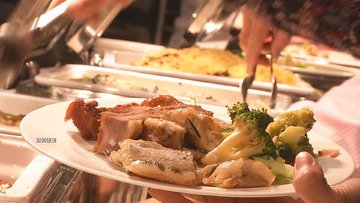 To deal with the growing problem of restaurant kitchen waste, the Food and Drug Administration is calling on consumers to use a doggy bag after dining at a restaurant.
If customers don't take the leftover food with them, they could be fined in the future. The punishment is part of the plan that could be introduced by the Taiwan Food and Drug Administration. The plan is aimed at reducing kitchen waste and encouraging the public not to waste food.
Right now, 70% of Taiwan's kitchen waste is used for feeding pigs. FDA figures show kitchen waste collected from some 2,600 restaurants islandwide reached over 17,000 tons in 2016. A year later, that figure jumped to more than 23,000 tons, which was collected from 2,850 restaurants.
To curb the spread of African swine fever, local governments have introduced a policy that bans feeding pigs with kitchen waste. But how can kitchen waste be reduced? The administration has come up with a doggy bag policy to address the issue. An official said if the policy does not produce positive results, the FDA does not rule out imposing fines on customers, such as Germany does.
One customer said he will take leftovers home with him because it's not worth paying the fine. Another customer agreed with the government's new doggy bag policy. Perhaps another way to reduce waste is to order no more than you need.