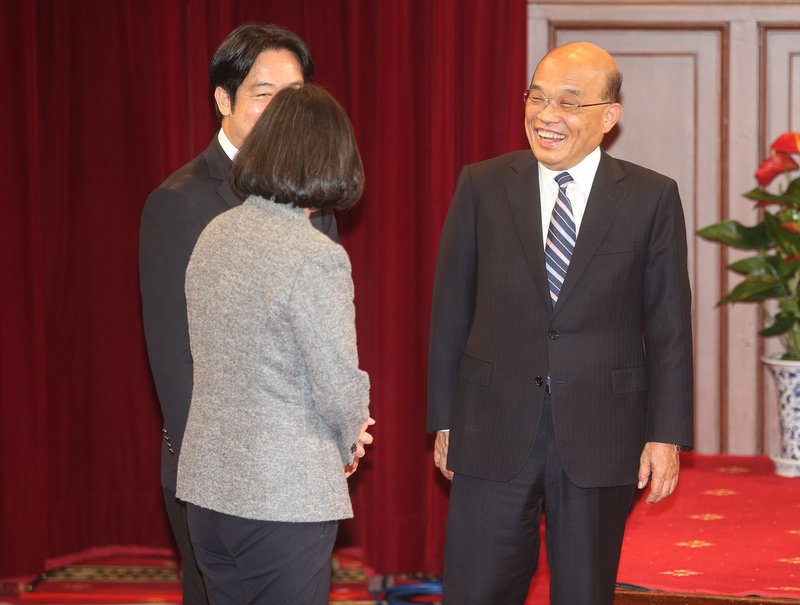 President Tsai Ing-wen announced on Friday morning that former Premier Su Tseng-chang is going to head the incoming Cabinet as premier. She was speaking at a press conference at the Presidential Office on Friday.
Su, 71, is a veteran and prominent Democratic Progressive Party politician. He was born in Pingtung and has a law degree from National Taiwan University. He has been a legislator, New Taipei City mayor, and Chief-of-Staff for former President Chen Shui-bian. He also served as premier from 2006 to 2007. During that time President Tsai Ing-wen was vice premier. Su also served as DPP Chair from 2012-2014.
President Tsai thanked Premier William Lai for his hard work and said she respects his decision to resign. Lai announced on Thursday that he and his Cabinet would resign en masse on Friday.
Tsai also explained why Su was chosen as the next premier. "At this moment, Taiwan needs an experienced premier, and a determined premier," said Tsai. "His effectiveness will enable him to complete reforms and national development projects."
Tsai also spelled out her expectations for incoming Premier Su. "In the first half [of our term], our administration has made progress on reforms, construction and economic development. The key in the next half is to bring results to the people of Taiwan," said the president. "So our expectations for the new premier is to enable the people to see and feel the progress of the administration's work."
She said that Taiwan needs a veteran politician like Su to work for the welfare of the people and to help protect Taiwan's democracy.