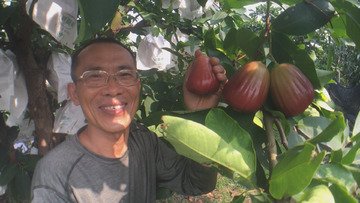 Wax apples are coming into season in Taiwan and the mild winter so far means this year's crop may be particularly sweet.
There is a special surprise as well this year for Pingtung farmer Huang Chin-wen – a pair of huge wax apples that Huang says are the largest he has grown in his 20 years of farming. Each of the fruits weighs close to half a kilo and is as large as a hand.
Spotting an opportunity, Huang put the pair of wax apples up for online auction, starting the bidding at NT$1,000 (US$33). With two full days still remaining until the auction closes, the price has already risen to NT$20,000 (US$650).
Fruit is a common gift at Chinese New Year and the eventual buyer of Huang's megafruit will certainly have some bragging rights. Huang says the winner of the auction will be brought to his farm to pick the fruit in person. The farmer also says he plans to donate the money raised by the wax apples to charity.