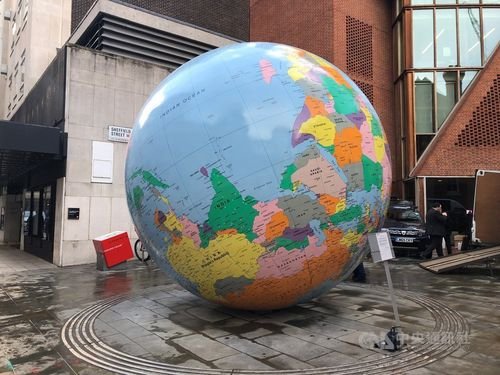 A student group at the London School of Economics (LSE) is set to hold a public discussion Tuesday on a controversial sculpture displayed on campus.
The sculpture in question is called "The World Turned Upside Down." Since it was unveiled in March, the large upside-down globe, designed by Mark Wallinger, has been a source of dispute. Chinese students are not happy that Taiwan was shown as an independent country on the globe. Other contentious issues include the drawing of border lines in various war zones and the marking of Jerusalem as the Israeli capital.
As the school has yet to decide how to deal with the sculpture, the student group "Decolonizing the LSE Collective" decided to hold a public discussion called "Decolonizing the Globe" on Tuesday. The goal is to examine the roles that colleges and universities should play in global politics and historical conflicts.
The discussion will be held right next to the sculpture. A student from the group says the first discussion will examine how borders are marked on the art piece but will not involve conflicts between countries.