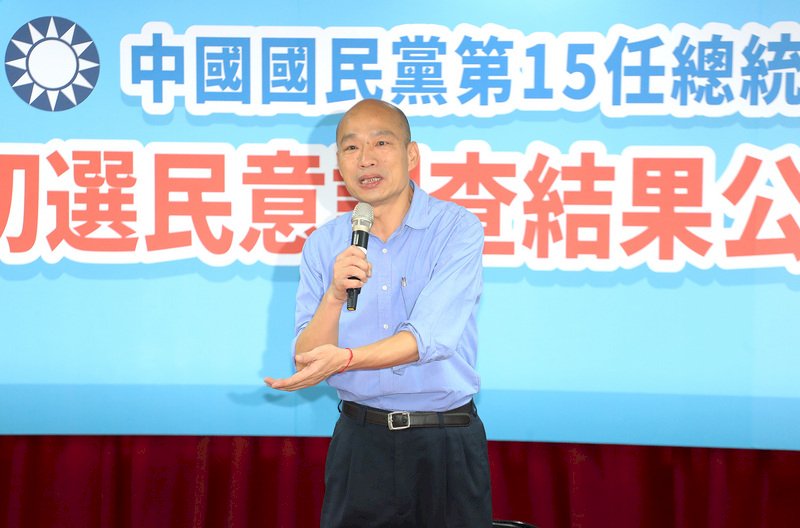 The opposition Kuomintang has selected their presidential candidate Kaohsiung Mayor Han Kuo-yu. Han spoke about his plan to unite the party and continue on as mayor during a press conference on Monday.
The KMT candidates and chair cheer for the party. National polls just selected the party's presidential candidate, Mayor Han Kuo-yu, who rose to political stardom when he won the Kaohsiung mayoral election last November, winning a city that had been strongly supported by the Democratic Progressive Party.
At the press conference, Han said, "First, I want to thank all the good friends who supported Han Kuo-yu, and the general public for your. For those who have been critical, I hope that will come to an end." Some 30,000 residents had signed a petition to recall him for neglecting his duties as mayor by running for president.
The Kuomintang used national polls for the first time to choose their candidate. Five pollsters surveyed over 15,000 people over 7 days. In the polls, Han Kuo yu received 44.8% of the support; Foxconn Founder Terry Gou got 27.7%; Former New Taipei City Mayor Eric Chu got 17.9%; Former Taipei County Chief Chou Hsi-wei got 6% and NTU professor Chang Ya-chung had 3.5%.
In three-way races, Han came in a strong first with 47.7% while President Tsai got 15.8% and Taipei Mayor Ko got 18%. The hypothetical three-way contests also saw Gou lead with 29.2% and Chu lead with 20.7%. The top KMT candidates all came out ahead of candidates from other parties. But Mayor Han had the strongest lead.
When asked if he would continue on as mayor of Kaohsiung, Han said, "I will continue to manage the city as Kaohsiung mayor. I'll do all I can to give what I promised to city residents." When asked if he would be able to unite his rivals, he said, "I'll meet with them as soon as we get in touch." He also said he would announce his running mate as soon as one was chosen.
The other top candidates, Terry Gou and Eric Chu, were visibly absent from the press conference. Now Han has the challenge of uniting the party and managing Kaohsiung as he runs for president.