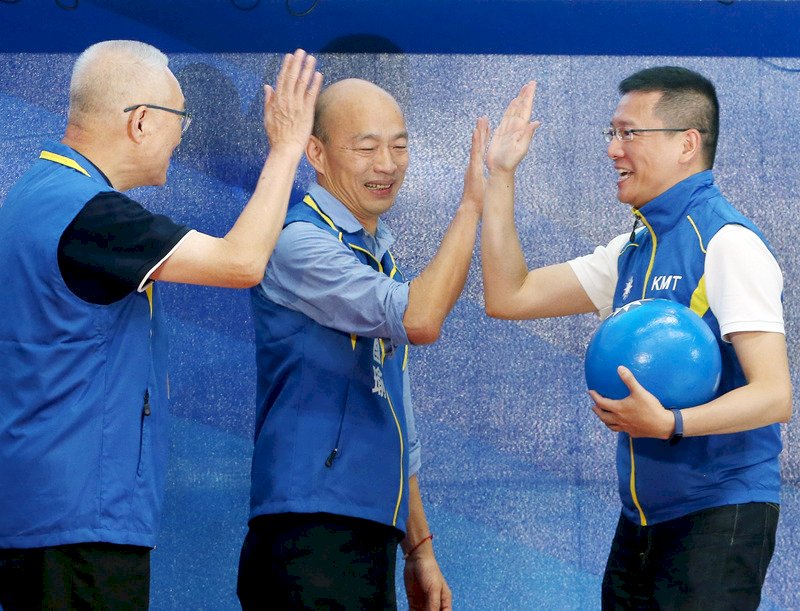 Kaohsiung Mayor Han Kuo-yu is now officially the opposition Kuomintang's (KMT) candidate for president. The announcement was made on Sunday at the KMT's National Congress. Han is running on the message that he'll create an economic miracle for Taiwan.
The KMT also announced that in the future, KMT presidents will no longer be able to serve as the party's chairperson.
These are "Han fans", or fans of Kaohsiung Mayor Han Kuo-yu. Many of them have shown fanatical support for the new political star, creating a "Han wave" that has enabled him to become the presidential candidate for one of Taiwan's biggest parties: the Kuomintang (KMT).
At the KMT's National Congress on Sunday, Han is dressed in his usual blue button-down shirt. He bows to the crowd and thanks them. The new mayor of Kaohsiung presents himself as a man of the people, and that's integral to his charisma.
Han shakes hands with KMT Chairperson Wu Den-yih and bows – physical gestures of humility. He often mentions the time he was unemployed for 17 years. His story and style sets him apart from the political elite, which his followers are tired of. At the party's National Congress on Sunday, Han speaks about his vision for Taiwan.
"This is a sacred presidential election. It's not just for a personal victory for Han Kuo-yu. And it's not just for our Kuomintang. It's for our country, the Republic of China. We need to wholeheartedly create a safe Taiwan, where the people are rich, a Taiwan miracle, an economic miracle."
Han is a charismatic speaker. He was elected in Kaohsiung on a promise that he'd make people rich. Now his presidential campaign is starting with the same theme. His reference to "safety" is an attempt to ease fears about the threat of China.
Han also has many supporters overseas. He urged them to call or write to their political leaders so that other countries may know about Taiwan's situation.
Han is working to mobilize his fans and unite the KMT. Former President Ma Ying-jeou attended the party congress as did primary contenders Eric Chu and Wang Jin-pyng. But his main rival, Foxconn founder Terry Gou, was not there.