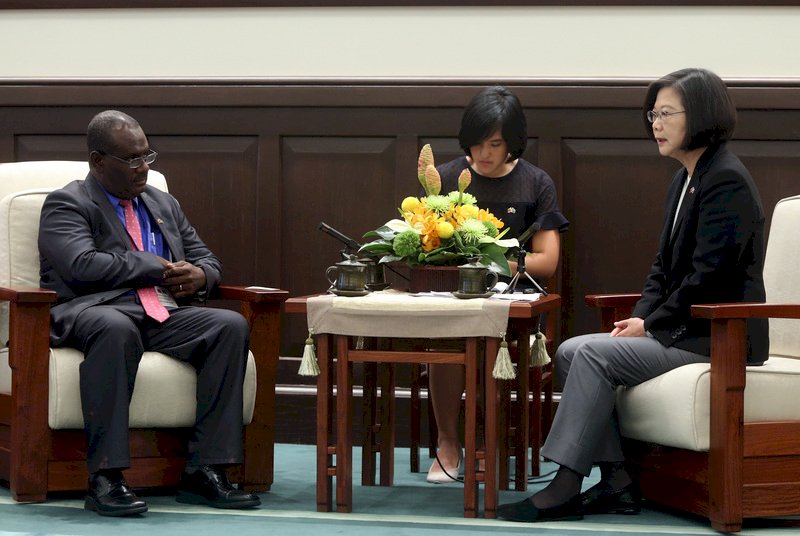 President Tsai Ing-wen met with visiting Solomon Islands Foreign Minister Jeremiah Manele at the Presidential Office on Monday. The visit comes after a Reuters report last week said that Solomons ministers recently visited Beijing and the new administration under Manasseh Sogavare may switch diplomatic ties to Beijing. Taiwan's foreign ministry has been saying that bilateral ties are normal.
On Monday, Tsai said the two sides have had diplomatic ties for 36 years. The Solomon Islands has always been a good friend of Taiwan and supported Taiwan in the UN and other international organizations. In August, Solomon Islands Speaker of Parliament Patteson Oti led a delegation to Taiwan to participate in the annual Asia-Pacific Congress. Foreign Minister Joseph Wu also attended a Pacific Islands Forum where he signed a visa-free agreement with the Solomon Islands.
President Tsai also highlighted the case of Solomon Islands Dr. Paul Bosawai Popora whose story was featured in a World Health Assembly film.
"Dr. Popora said everything started from Taiwan. He personally experienced Taiwan's nursing and medical services and system and said he would return to his country and open a clinic," said Tsai. "Two years ago, I visited the Solomon Islands and visited Taiwan's medical center in the Central Medical Center. The presentation from the medical team assured me that Taiwan is a responsible member of the international community. Being a partner that is willing to contribute is not just a slogan, it is part of our daily work."
President Tsai also met with the new ambassador of Nauru Jarden Kepahs on Monday and said that relations with their newly elected administration will bring the two sides to a new stage. She looks forward to strengthening ties with Nauru as well.