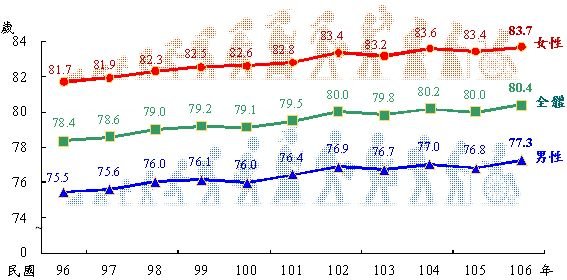 New figures from the interior ministry show that Taiwan's life expectancy reached a new high last year, climbing to 80.7 years.
Life expectancy for both men and women was the highest ever, with the average Taiwanese man expected to live 77.5 years and the average Taiwanese woman expected to live to 84.
The interior ministry says that improved medical care, higher living standards, and national concern about food safety and exercise may all be behind this increase.
But while Taiwanese people as a whole are living longer, gains in life expectancy are skewed towards the urban, affluent north.
Life expectancy in Taipei is 83.6 years, higher than the national average. Areas close to Taipei also tend to have high life expectancy. But a comparison of Taiwan's six special municipalities shows that expected lifespans drop off as distance from Taipei increases. The lowest life expectancy is found in Taitung County in the rural southeast, where residents can only expect to live 75.8 years.
Taitung County in particular has long remained around five years behind the national average, but the interior ministry says this gap has closed somewhat over the past decade.