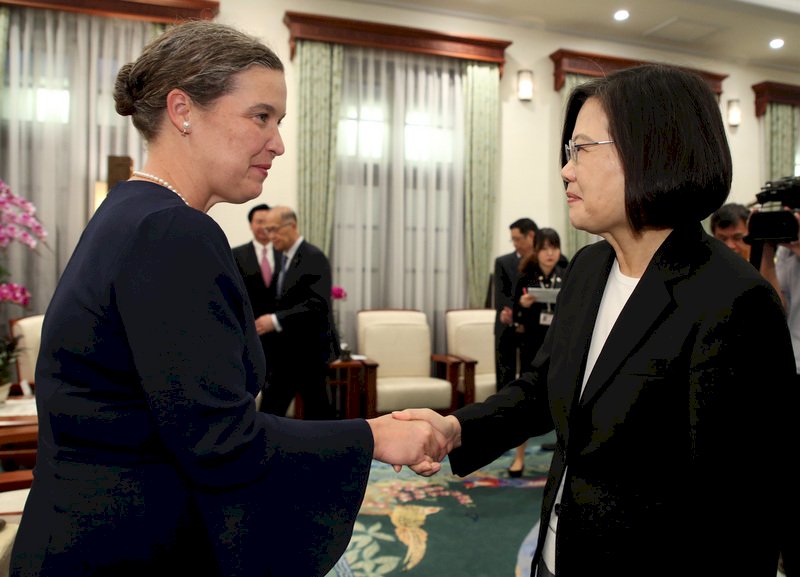 President Tsai Ing-wen called Wednesday for Taiwan and friendly nations to work together for regional stability and common values. Tsai was speaking while receiving US State Department official Sandra Oudkirk.
Tsai said that she hopes that Taiwan and the US can have more cooperation together under the APEC framework.
Tsai said,"The theme for this year's APEC meeting is "Connecting People, Building the Future". I want to take this opportunity to reaffirm that Taiwan is willing to strengthen cooperation with the US and other like-minded countries. Under the APEC framework, we can work together to respond to the challenges of the digital economy, and enhance the economic empowerment of women. We can also assist small and medium-sized enterprises' transition into the digital age, and participate in regional economic integration and global value chains to spur sustainable and inclusive economic growth."
Oudkirk spoke out for Taiwan at a hearing in the US House of Representatives last month. She said that Taiwan is a successful democracy and a trustworthy partner. She also said that Taiwan and the US have worked together closely in the areas of public health, humanitarian aid, and women's empowerment. She said the US will continue to cooperate with Taiwan in promoting security and prosperity in the Indo-Pacific.