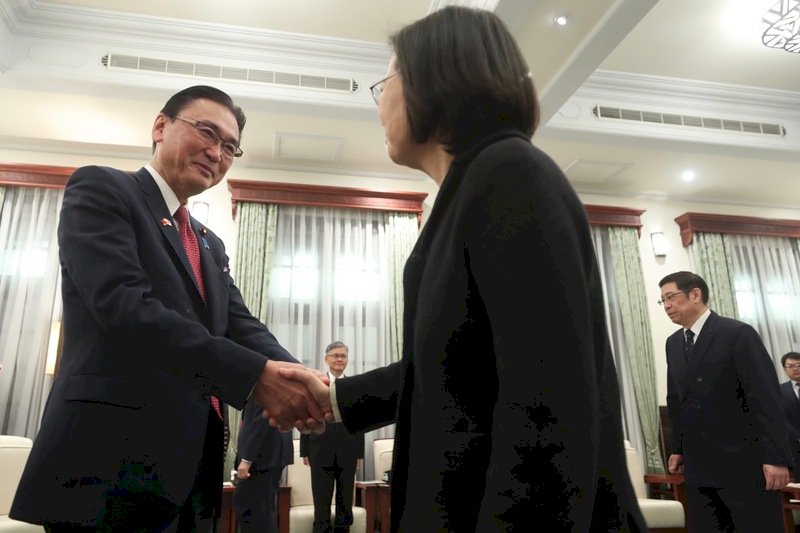 President Tsai Ing-wen met with a Japanese parliamentarian and the UK's representative to Taiwan in separate meetings Friday.
Tsai first met with Furuya Keiji, the chair of the Japanese Diet's Taiwan friendship group.
Tsai thanked Furuya for supporting exchanges between Taiwan and Japan. She said that Furuya's visit so soon after her re-election is a strong gesture of support. Tsai said she will protect Taiwan's democracy and sovereignty while also working for regional stability. She hopes said she hopes that Furuya will continue advocating for more meaningful exchanges between Taiwan and Japan.
Tsai also met with British representative to Taiwan, Catherine Nettleton. Nettleton congratulated Tsai on her re-election. She also congratulated Taiwan for an election that was smooth and democratic.
During the meeting, Tsai said that Taiwan's relationship with the UK has flourished during her time in office. She said that the UK has shown concern for Taiwanese affairs, as evidenced by her recent interview with the BBC.
Tsai said that Taiwan will be a responsible member of the international community in regards to its relations with China. She says that the UK has always been a staunch partner of Taiwan, and hopes that this partnership will continue strengthening after Brexit.