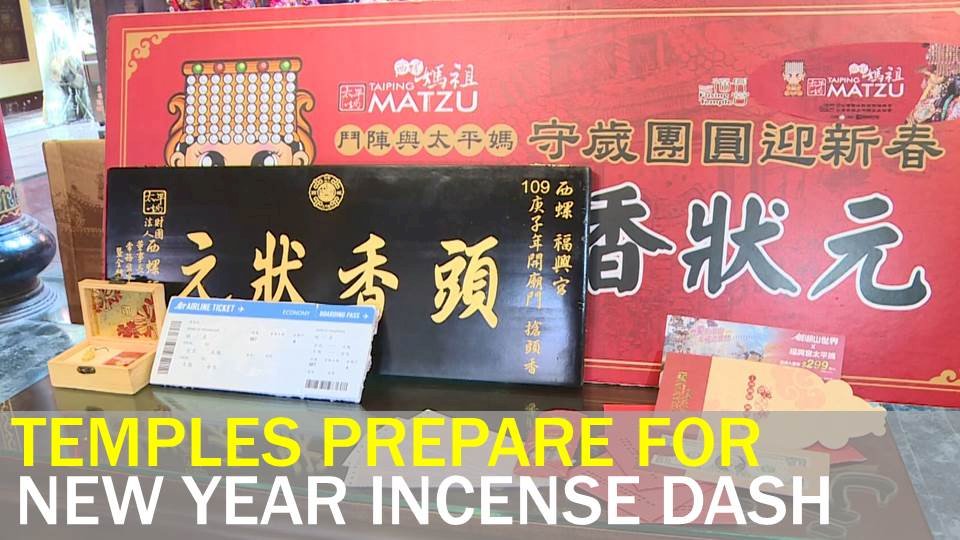 On Friday, people across Taiwan will celebrate Lunar New Year's Eve, the biggest holiday of the year. But while some will spend the evening relaxing and feasting, others will be kicking off the New Year with a shot or two of adrenaline.
Tradition holds that good fortune awaits those who offer the year's first stick of incense at a temple. That's why, at the stroke of midnight on the first day of each lunar year, some Taiwanese temples are crammed full of people. They want that good fortune, and they are willing to race for it. This is the reason for a special and rather dangerous New Year's custom: the annual incense dash.
At certain well-known temples, contestants line up, ready to run with a lit stick of incense and do whatever it takes to reach the main incense burner first. At exactly midnight, the temples fling open their doors, and the race is on.
Along the way, spills and pile-ups are almost inevitable. Still, despite the risks, people line up year after year to take part. This may have to do with the fact that these days, the "good fortune" people are competing for is indisputably real.
For instance, Yunlin County's Xiluo Fuxing Temple offers a lavish prize package for the winner that includes plane tickets and a statue made of pure gold. Market value? Over US$1000!
The famous Dajia Jhenlan Temple of Taichung, meanwhile, has a top prize of US$333, with smaller prizes for second- and third-place winners. Changhua County's Nanyao Temple also offers second- and third- place prizes. But its top prize is a symbolic NT$8888, eight being a number associated with prosperity. That's just short of US$300- money worth racing for.