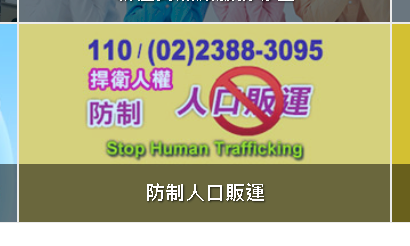 Taiwan has received a top ranking in the annual Trafficking in Persons report issued by the US Department of State. This is the eleventh consecutive year that Taiwan has been awarded a Tier 1 ranking – this means the country maintains the minimum standards for the elimination of human trafficking.
Taiwan's interior ministry says that President Tsai Ing-wen helped establish a strong basis for fighting human trafficking in 2007, when she was still serving as vice premier. That year, she oversaw the institution of regular reports on the issue of human trafficking.
The interior ministry says that since January last year, these reports have been used a platform for drawing up measures to tackle human trafficking. These include a plan covering 2019-2020 that involves the participation of both government ministries and private groups.
Despite giving Taiwan top marks for its efforts to fight human trafficking, the US State Department report also says there are still areas in which Taiwan must improve.
It says that Taiwan must do more to manage its fishing fleet, especially its deep sea fishing fleet, and take steps to find and protect exploited fishermen. It also said that Taiwan must intervene in the system of middlemen used to hire migrant workers. The interior ministry says progress in these areas can be tracked in Taiwan's own regular reports on human trafficking.