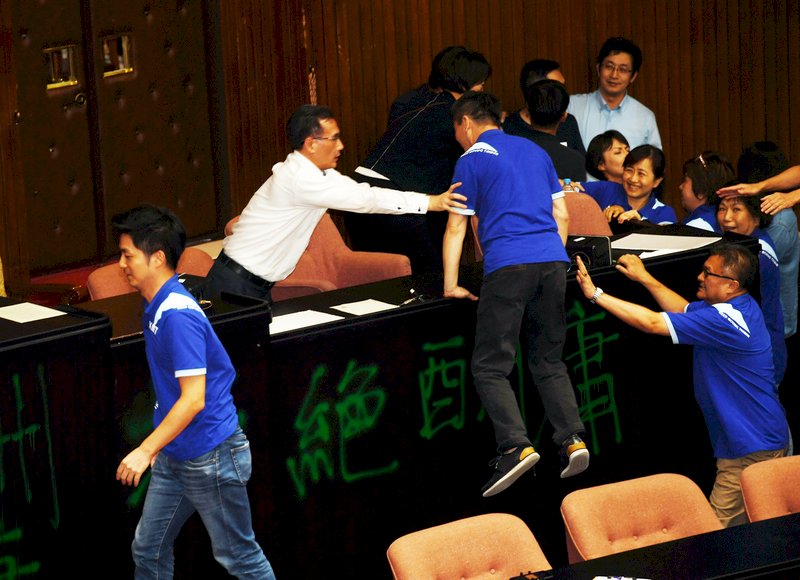 Taiwan's legislature has launched a three-week special legislative session despite protests from opposition Kuomintang lawmakers on Monday morning.
One of the main goals of the session is to approve nominees for the Examination Yuan, the Control Yuan and the National Communications Commission (NCC).
On Sunday, more than 20 KMT legislators stormed into the legislature, blocking entry to the main chamber with chairs and chains. They were protesting the nomination of former Presidential Office Secretary-General and former Kaohsiung Mayor Chen Chu to head the government's Control Yuan.
The Control Yuan is the investigative agency that monitors the other four branches of government. It consists of 29 members, who are appointed by the president and approved by the legislature every six years.
The KMT said the Control Yuan is supposed to be an impartial body, but of the 27 nominees, 24 are members of the ruling DPP or have close connections with the party. They said Chen Chu was not qualified to head the Control Yuan, because members of her Kaohsiung team had been impeached by the body.
On Monday, the legislature decided that a public hearing on Examination Yuan nominees will be held on July 7. That branch of the government is responsible for civil servant exams.
The nominees will be reviewed from July 8-9 and a vote will be held on July 10. A public hearing on the Control Yuan nominees will be held on July 13. The Control Yuan nominees will be reviewed from July 14-16. A final vote on Control Yuan nominees will take place on July 17.