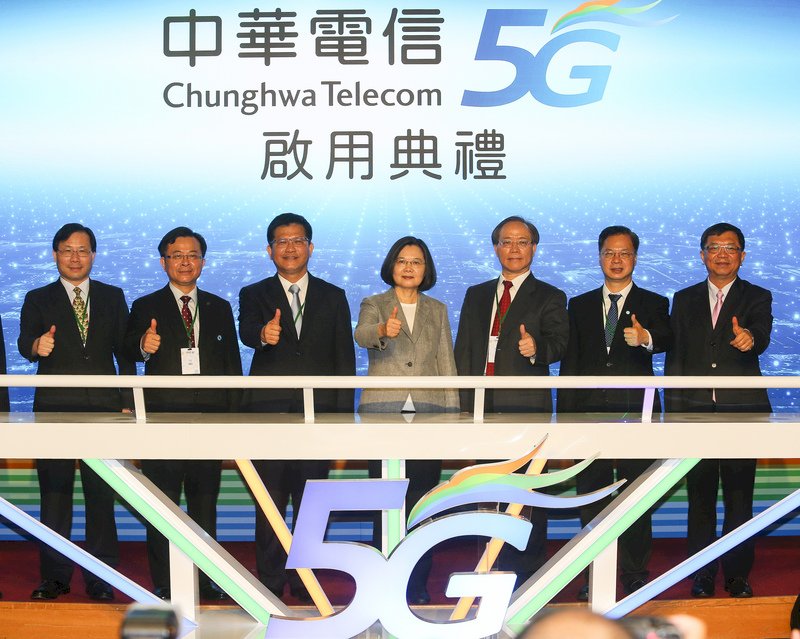 Two telecom companies - Chunghwa Telecom and Taiwan Mobile - launched 5G services in Taiwan on Tuesday. President Tsai Ing-wen hailed this as an important milestone in making Taiwan a digital nation and smart island.
President Tsai Ing-wen spoke at the Chunghwa Telecom 5G launch ceremony on Tuesday morning. She said Taiwan is now like the US, Japan, and Korea in that it has entered the 5G era. She said the government will invest NT$20 billion (about US$ 680 million) in the development of 5G technology and infrastructure over the next four years.
Tsai said that 5G networks will be helpful in advancing self-driving cars, drones, smart transportation, smart medical care and smart cities. The technology will help upgrade quality of life and personal security in Taiwan.

Chunghwa Telecom (CHT) was the first to launch its 5G service on Tuesday morning. CHI Chairman Hsieh Chi-mau said that 5G is one of Taiwan's six core strategic industries. Chunghwa Telecom began investing and preparing for this network two years ago and was the first in Taiwan to obtain a license and begin operations on June 30th.


Hsieh said it has set up 2,000 5G base stations. These include venues with high foot traffic such as shopping centers, science parks, and 40 universities. There are also stations in transportation hubs such as the high speed rail, the Taiwan Railway, Taipei and Kaohsiung metros, national highways and the airport metro line. By the end of the year, CHT will have 4,000 base stations and a total of 10,000 base stations within three years.
Hsieh said application of the technology includes smart transportation, smart emergency medical care and smart long-term care services. Customers can also enjoy 4K and 8K video services, cloud games and AR and VR applications.
The fees will range from NT$599 (about US$20) to NT$2,699 (about US$90) a month.