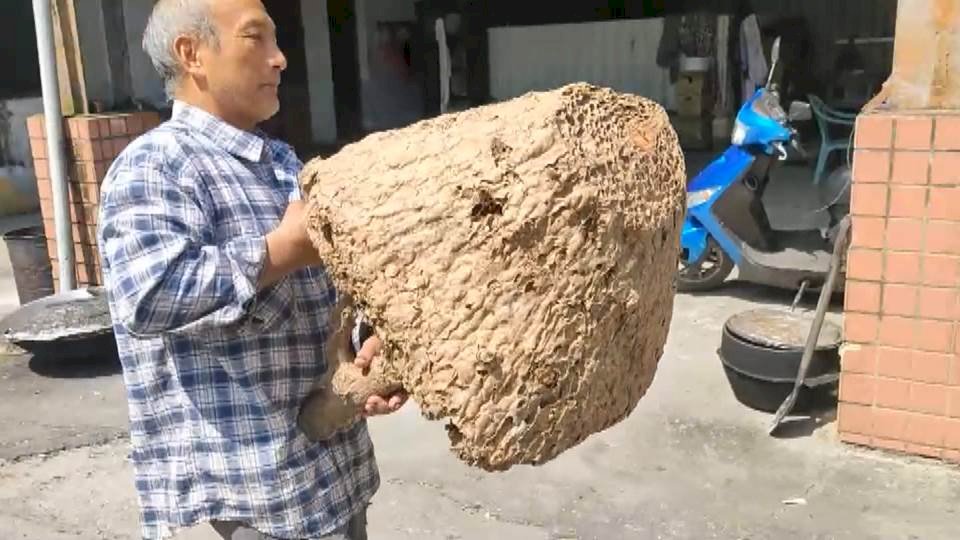 The black-bellied hornet is a species of hornet native to Taiwan. It is one of the most dangerous species of hornet on the island, with a sting that can be fatal. The hornets become more active and sensitive to their surroundings each year when summer turns to fall, so beware when you chance upon a hornet's nest on your walk.
This is Bunun hunter Gianu's 15th hornet's nest this year, and the biggest he's had to help remove so far, this time, after locals complained it was too scary to walk past the nest.
It weighed over 60 kilos, and while half of it broke up and fell into a gorge when Gianu was working to dislodge it, there were still over 20,000 hornets trapped under the netting in the remaining half.
The hornets are getting restless. It is mating season, and a new queen bee will emerge with her own clique, so the hornets are on edge and preparing to stock up on pollen. This makes them more irritable, so Gianu warns people to be extra cautious.
The black-bellied hornets will attack any moving target if they are startled by its movement or drawn in by its scent. So when you go for a walk or a hike, keep in mind to not wear anything fragrant like perfume or hairspray.