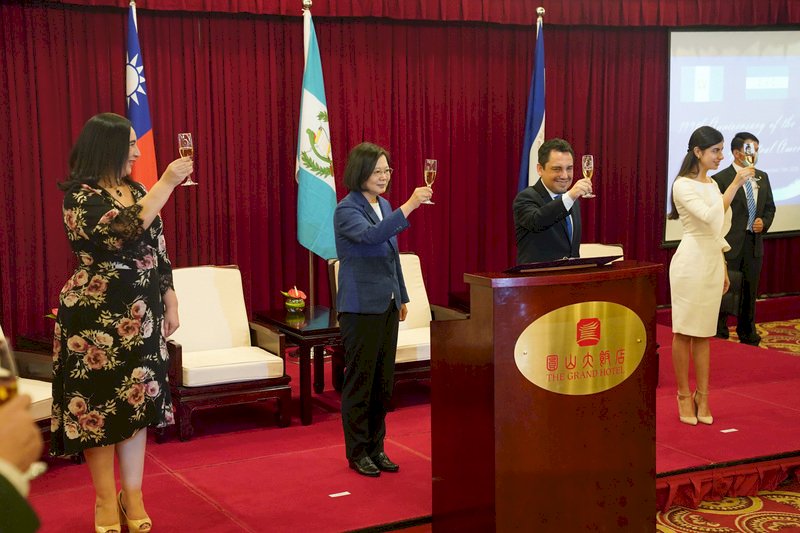 President Tsai spoke on Tuesday about Taiwan's resolve to share freedom with the rest of the world. Her comments came during a reception to mark the 199th anniversary of Central American Independence.
The ambassadors of Guatemala, Honduras and Nicaragua were also in attendance. Those are three of the five countries that declared independence from Spain back on September 15, 1821.
In her speech, President Tsai said that this year's reception carried special importance in light of the global pandemic. She thanked Taiwan's Central American allies for their continued cooperation in fighting COVID-19. Tsai listed several ongoing examples of how relations with Central America have actually flourished despite the pandemic. Those efforts include a scholarship program with Guatemala, vocational training exchanges with Honduras, and a cooperative effort with Nicaragua dealing with agricultural technology.
Guatemalan Ambassador Willy Alberto Gómez Tirado also spoke at Tuesday's event. He said that surgical face masks from Taiwan have enabled the people of his country to experience the freedom of leaving their homes.
President Tsai said that Taiwan understands the Central American nations' opposition to colonisation 199 years ago, and their continued desire for freedom. She said that Taiwan similarly refuses to bow to foreign pressure and will continue to share freedom with the world.