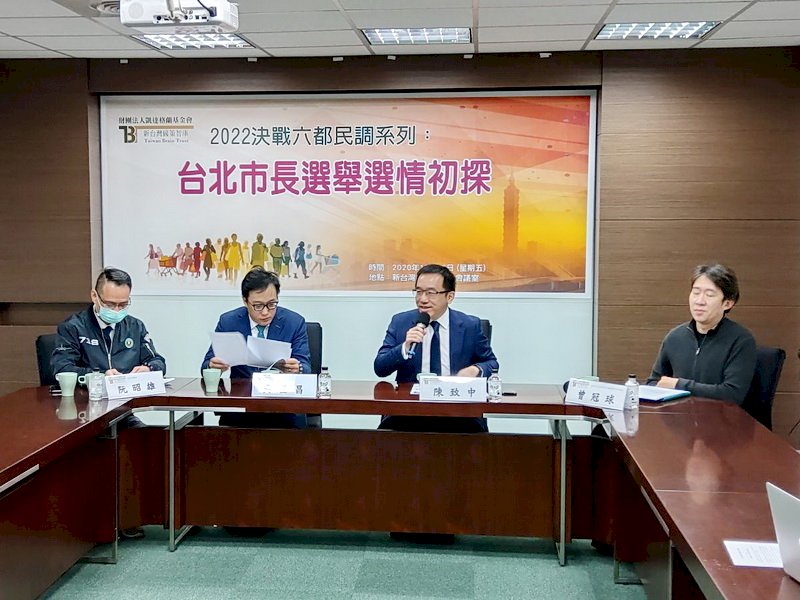 KMT lawmaker Chiang Wan-an leads other potential candidates in a hypothetical race for the Taipei mayor's office. That's what an evaluation of potential candidates' chances by Taiwan Brain Trust has found.
Taiwan Brain Trust published its findings on Friday.
The next Taipei mayoral race will not take place until 2022, but already Taiwan Brain Trust is looking into how potential candidates might fare.
In addition to Chiang Wan-an, the analysis also looked at the chances of possible campaigns led by Health Minister Chen Shih-chung, DPP Legislator Kao Chia-yu, New Frontier Foundation Deputy CEO Enoch Wu, and former Presidential Office Spokesperson Lo Chih-chiang.
Chiang came out ahead of all these hypothetical rivals, with 64.7% of respondents to Taiwan Brain Trust's survey saying they would back him in a mayoral run. That was well ahead of the 31.9% who said they'd back the closest runner up, Health Minister Chen Shih-chung.
When asked which political party's candidate they'd support for Taipei Mayor, 28.3% of respondents said they'd support the KMT, 20.4% said they'd support the DPP, 8.7% said they'd support the TPP, while only 3.4% said they'd support the NPP.