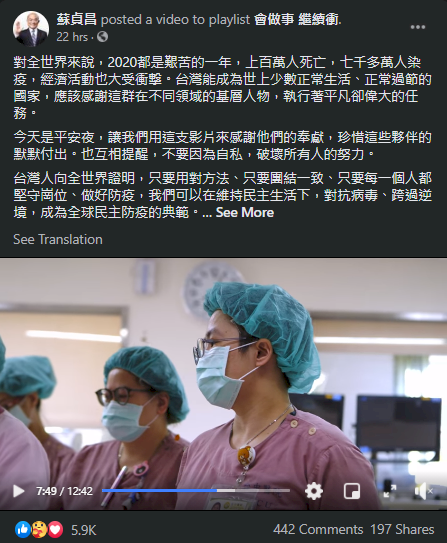 Premier Su Tseng-chang took to Facebook on Christmas Eve to thank Taiwan's frontline medical workers for their role in containing COVID-19. Su said that thanks to the hard work of medical staff, life in Taiwan is still largely continuing as normal. He also said that Taiwan is only able to celebrate the holidays normally this year because of medical personnel.
Su published a video along with his post, thanking medical workers, prevention staff, mask producers, and taxi drivers who transported those under quarantine for their roles in keeping Taiwan safe from COVID-19.
Su said that 2020 was a hard year for the entire world. Over one million people have died globally from COVID-19, with 70 million contracting the disease. However, Su said that Taiwan's success in tackling the COVID-19 pandemic proves that proper protocols and teamwork are enough to handle any challenge.