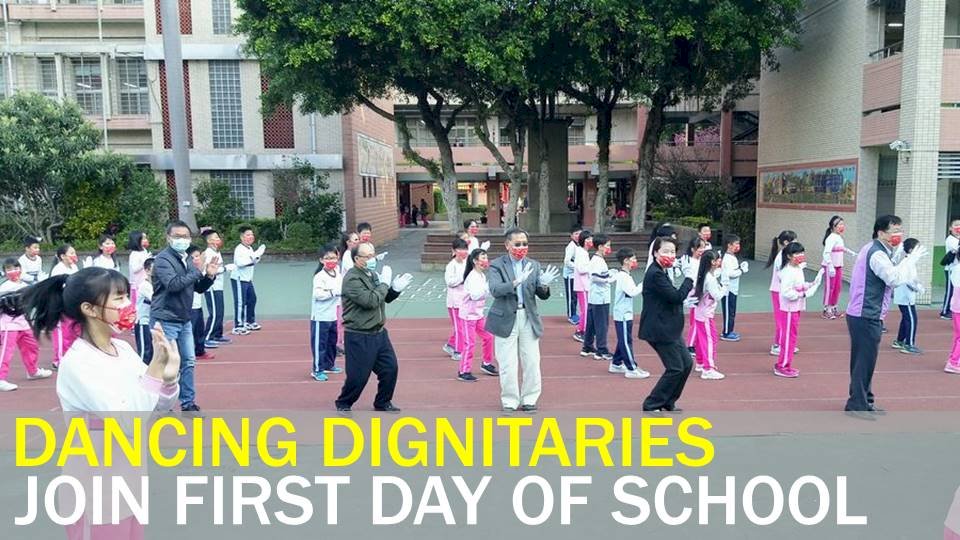 Taiwan's students are finally back at school. The Education Ministry had delayed the start of the new semester by four days at the end of the Lunar New Year in order to disinfect schools. When the children returned on Monday, one school in Taipei had some special visitors waiting with festive gifts.

The first day back at school is never easy. But add to that local politicians, a global pandemic and dozens of cameras, and you've got quite a morning. Taipei Deputy Mayors Tsai Ping-kun and Huang Shan-shan went to Jilin Elementary School on Monday to hand out special New Year's medical masks to students.
And of course, the city officials couldn't resist joining in when students performed a dance teaching the importance of hand-washing.
Deputy Mayor Tsai says it's good to see students learning and having fun at the same time. He says he thinks the dance will be a big help for students in cementing the habit of frequently washing your hands.
Deputy Mayor Huang says supplies of medical equipment are a lot better than last year. She says that in addition to the new infrared temperature checks, there are also enough supplies of basic hygiene equipment to last at least six months. Even if the pandemic is as bad as last year, there should not be a shortage. She says the next step is working with schools to plan a vaccination program.
Principal Yu Chih-chang explains the school's pandemic prevention plan. He says children take their own temperature twice at home: once when they wake up, and again when they go to bed. That's on top of temperature scans when they enter the school. If a child has a temperature, staff check it again with an ear thermometer. If it's over 38 degrees, the school asks a parent to take the child for a health check-up. Also, the whole school does an additional temperature check every afternoon.
It's the second year in a row that authorities have delayed the start of school. But more than a year into the pandemic, everyone is better prepared this time round. Schools are asking students to wash their hands, wear a mask, take their temperature and exercise regularly. For these students, an apple a day might just keep the film crews away.