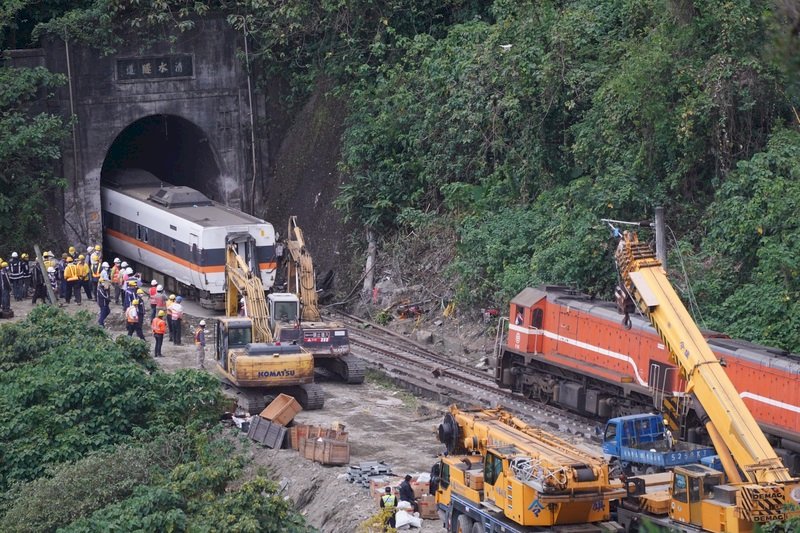 In the wake of Taiwan's most fatal train accident in over 70 years, lawmakers on Tuesday passed a resolution demanding that the Ministry of Transportation and Communications (MOTC) submit a train safety improvement plan within a month. The crash last Friday led to 50 dead and over 200 injured in a train with nearly 500 passengers.
The resolution was proposed by the opposition Taiwan People's Party (TPP). It requires the transportation ministry to report to the legislature on its contractors based on their industrial safety histories. The resolution also said that the ministry should list Taiwan Railways Administration (TRA) contractors that have records of industrial safety violations and other mishandling.
Two other resolutions proposed by the main opposition Kuomintang (KMT) failed to pass during the same session Tuesday.
One of the KMT resolutions required Premier Su Tseng-chang, Transportation Minister Lin Chia-lung, and Deputy Transportion Minister Chi Wen-jong, who also serves as acting TRA head, to step down to take political responsibility for the train accident. Lin has offered to resign, but this has not been approved by Su.
Another resolution, meanwhile, asked the Legislative Yuan to come up with a special investigative committee to probe the circumstances of the accident and find those responsible.
The ruling Democratic Progressive Party holds the majority in the legislature. DPP Legislative Caucus Secretary-General Lo Chih-cheng said that the DPP would not dodge responsibility for the incident but it was not necessary to exaggerate the level of responsibility to the premier or even the president.
Lo also said the DPP does not oppose the forming of a special investigative team within the Legislative Yuan, but such a team should be formed under the Legislature's Transportation Committee rather than at a plenary session.
The accident occurred on April 2 when a TRA express train hit a crane truck that had fallen onto the track near the entrance to the Qingshui Tunnel in Hualien County.
An initial investigation found that the truck driven by Lee Yi-hsiang and parked at a construction site above the southbound track, slid down an incline onto the track, blocking the train's path.