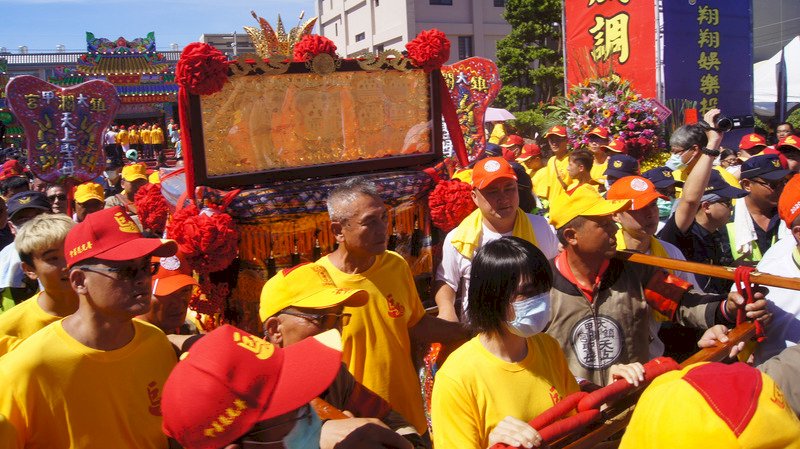 Radio Taiwan International is set to broadcast the Dajia Mazu Pilgrimage live on-site in eleven languages on Friday night. Mazu is traditionally worshipped as the goddess of the sea. The annual pilgrimage has been recognized by Discovery Channel as one of the world's three major religious festivals.
The pilgrimage begins at 11:05 pm Friday night and will last for nine days and eight nights. The journey spans 340 kilometers and brings the Dajia Mazu through nearly 100 temples along the way. The pilgrimage is to honor the goddess and to pray for the world's health and well-being.
RTI is sending hosts from eleven language services to broadcast the event live from 8pm until midnight. These languages are English, French, Russian, German, Spanish, Japanese, Indonesian, Thai, Vietnamese, Korean, and Cantonese.
RTI Chairman Lu Ping says, "Radio Taiwan International is able to broadcast in eleven languages. Program hosts will be broadcasting in their native languages about this story and its connection to other cultures and the sincerity that this religious festival represents. This is all a reflection of our respect and place in the universe. This is not just meaningful for Taiwan but is also a connection to bring healing and security for the world at this important moment."
The deputy chair of the General Association of Chinese Taoism Belle Yu said, "After the pandemic, I think the world needs a compassionate, comforting source of strength. Mazu has protected us for hundreds of years. We should also spread Mazu's compassion to the world."
The theme for this year's pilgrimage is "Promise", and Taiwanese singer Mavis Fan will sing the hit song "I Promise" at the opening. Singer Winnie Hsin will sing the Taiwanese version of the song at the closing ceremony.
The procession is the largest religious event in Taiwan and usually attracts around 1 million people. Last year, due to the pandemic, the event was scaled down to 800 people and postponed to mid-June.
In 2009 UNESCO put Mazu beliefs and customs on its Representative List of the Intangible Cultural Heritage of Humanity.