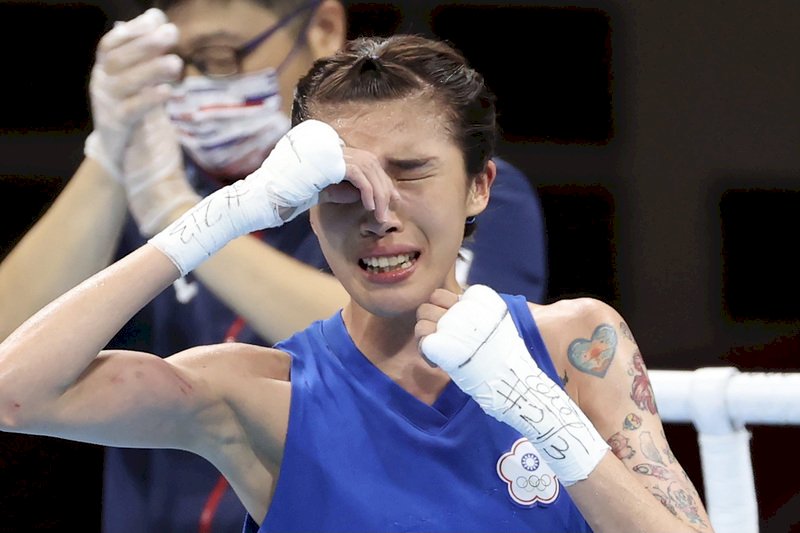 Taiwan's Huang Hsiao-wen made it to the semifinals in Olympic boxing on Sunday, guaranteeing an Olympic medal for the 23-year-old athlete. She will be Taiwan's first boxer to win an Olympic medal.
Crying tears of relief and joy, Huang said she has been under a lot of pressure and her weight has dropped to 49kg. Huang is 176cm tall.
On Sunday, she defeated Serbian boxer Nina Radovanovic with a score of 5:0 in the 48-51kg flyweight category. Huang's height was an asset for her as she is 14cm taller than Radovanovic.
Huang competes next in the semifinals on Wednesday against Turkish boxer Buse Naz Çakıroğlu.
In combat sports, such as boxing and wrestling, the Olympics hands out two bronze medals. In boxing, both losing semi-finalists are given a bronze medal each.
Huang began boxing in junior high school. She originally wanted to be a basketball player, but there were no openings in that sport, so her coach encouraged her to try boxing.
She currently is a student at Fu Jen Catholic University. This is her first time competing in the Olympics.

She won a gold at the AIBA Women's World Boxing Championships in the bantamweight (54kg) category.
In the past five years, she has competed at the flyweight (51kg), the bantamweight (54kg) and the featherweight (57kg) categories.