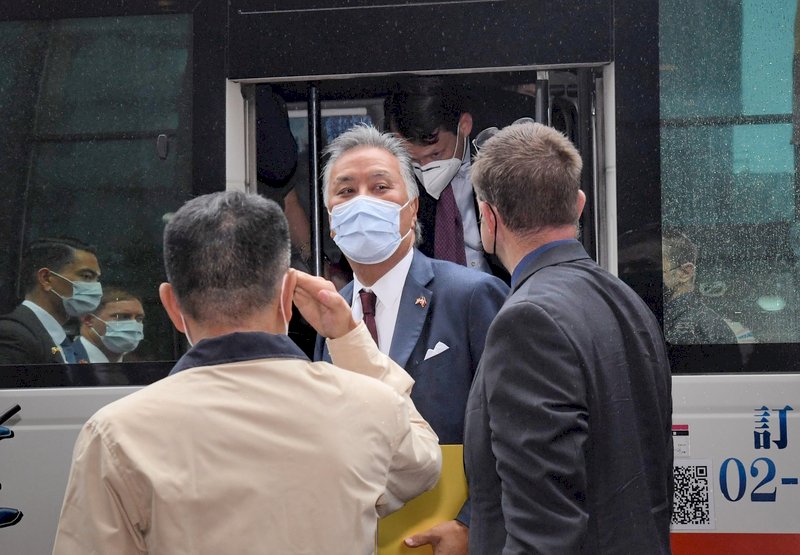 President Tsai Ing-wen has met with a visiting congressional delegation from the US. During the meeting on Friday morning, she hailed recent advances in US-Taiwan ties.
Tsai said that over the past year, Taiwan and the US have shared medical supplies in order to combat COVID-19. She expressed particular thanks for the United States' donation of four million COVID vaccine doses to Taiwan earlier this year.
Tsai also spoke about military cooperation with the US. She said that Taiwan's Veterans Affairs Council will send a permanent liaison to Washington, DC in January. She said this will allow for further bilateral exchanges on matters such as health care, health insurance, and vocational guidance for ex-service members, as well as care for elderly veterans.
In addition, Tsai pointed to cooperation with the US in outfitting Taiwan's air force with newly-upgraded F-16V fighters.
Tsai said that trade ties have also seen improvement. She said that talks on a Trade and Investment Framework Agreement between Taiwan and the US have resumed after a five-year hiatus due to Taiwan's opening up to imports of US pork.
Finally, Tsai said that Taiwan and the US work together to defend the values of freedom and democracy and ensure regional peace and stability. Tsai said she hopes to see further achievements in bilateral cooperation in the post-pandemic era.