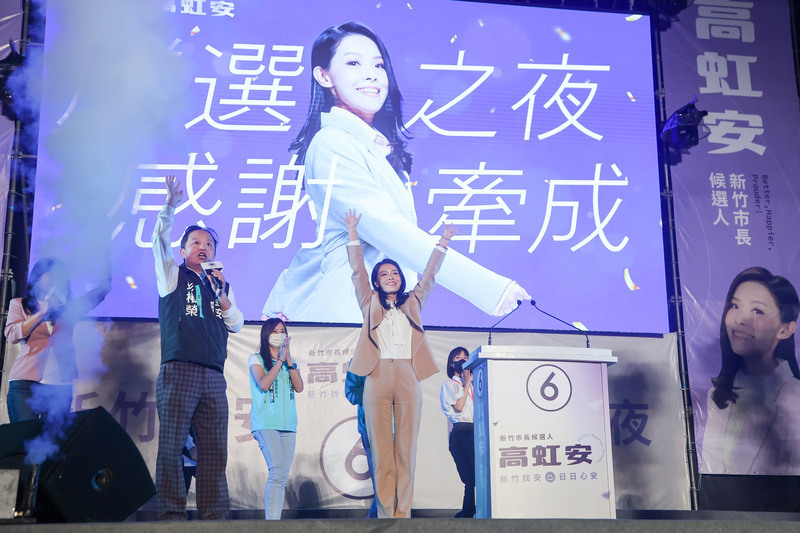 Taiwan People's Party (TPP) Hsinchu City mayor candidate Ann Kao (高虹安) has declared victory. This is the first time the new party has won a mayoral election.
The TPP was started by Taipei Mayor Ko Wen-je (柯文哲) in August 2019. Ko has expressed aspirations to run for president in 2024, and the party is seen as a vehicle to elect him.

The TPP is Taiwan's third largest party in the legislature. The party brands itself as a third alternative to Taiwan's two main political parties. This is the first local election it has run in.
Kao declared victory at 7:24pm based on initial vote counts. Former Hsinchu Deputy Mayor Shen Hui-hung (沈慧虹) of the Democratic Progressive Party (DPP) conceded defeat at around 7p.m.
Hsinchu is Taiwan's high tech hub and has been one of this year's most highly contested mayoral races. The 38-year-old Kao will become the youngest mayor in Taiwan's history.
Kao began her political career as an aide to founder of Hon Hai Precision Industry Terry Gou (郭台銘) when he participated in the KMT's 2019 presidential primary. Kao has a strong tech background which was likely a big part of her appeal to the city's voters. She worked at the government-funded Institute for Information Industry and became the head of Hon Hai's big data office in 2018.
Kao has been able to lead the race despite being plagued by scandals and lawsuits. Last month, the institute filed a suit against Kao for copyright infringement. It says she copied 70 to 80% of her doctoral thesis without proper attribution. Kao has also been accused of misappropriating public funds as a legislator. Kao has rejected the charges and said they were part of a smear campaign against her.
Kao says she will transform the city into an international tech hub.