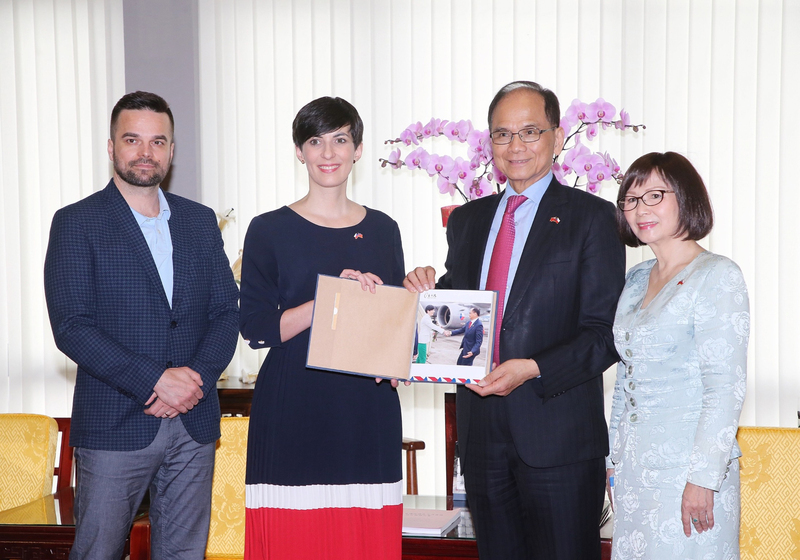 Taiwan and the Czech Republic have jointly signed a number of MOUs as relations between the two countries grow closer. The Czech parliament's lower chamber speaker Markéta Pekarová Adamová is in Taiwan, leading a delegation of over 160 representatives consisting of government officials, academics and business leaders. It is the largest exchange ever between the two sides.
The MOUs include exchanges between museums, and universities for the establishment of centers for teaching and research on supply chain resilience. The two countries also signed an MOU on cooperation between Taiwan's Institute for National Defense and Security Research, and the Institute of International Relations Prague. In addition, the delegation signed seven other MOUs with private enterprises in Taiwan.
Legislative Speaker You Si-kun (游錫堃) said both countries signed a declaration of friendship and cooperation between the Chamber of Deputies of the Czech Republic and Taiwan's Legislature. You said the Czech delegation was met with strong protests from China before its departure from its country. You said the signing of the declaration demonstrates the importance of solidarity between free and democratic countries.
Adamová said that the Taiwan trip has been fruitful and that representatives of the education and business sectors are especially pleased with the numerous cooperation agreements. She said that the fight for universal values such as democracy, freedom and human rights is a continuous one and that she is confident that Taiwan and Czechia will work together to defend their common values and deepen relations.