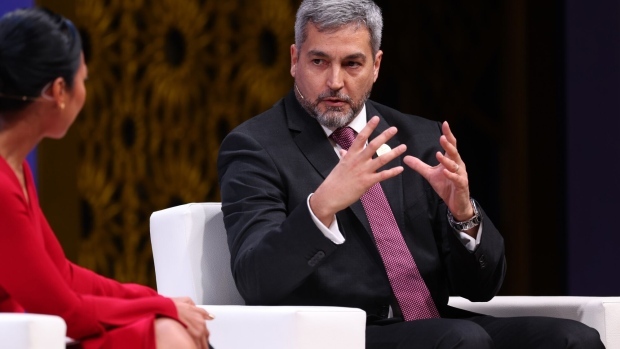 Outgoing Paraguayan President Mario Abdo Benitez says the country's new government can increase trade with China without giving up diplomatic relations with Taiwan. Benitez made the comments on Wednesday while speaking at the Qatar Economic Forum.
Benitez's Colorado Party colleague Santiago Peña will succeed him in August. Peña's victory relieved concerns that yet another Latin American country would switch diplomatic ties from Taipei to Beijing, as Peña's opponent Efraín Alegre had proposed to do.
Paraguay is the last South American country that still maintains diplomatic relations with Taiwan. In March, Honduras became the latest Central American country to switch recognition to Beijing in recent years, following Panama, El Salvador, the Dominican Republic, and Nicaragua.
Benitez says trade with Taiwan increased by 500% during his administration. He says if the new government can continue these gains with Taiwan, it gives them a strong argument to maintain what he calls the "strategic alliance" with Taipei.
The president says Taiwan does not need to give or offer anything for the bilateral relationship to continue. But he adds that perhaps Taiwan has not seen the full potential of investing in Paraguay.
Benitez says Paraguay can still take advantage of any trade deal between China and the South American trade bloc Mercosur, of which Paraguay is a member. He adds that Paraguay is not against trade with any country, but China doesn't want to trade with Taiwan's allies.
The president also says he doesn't think the Chinese renminbi will replace the U.S. dollar. He adds that the world needs a "democratic currency" like the dollar, and he doesn't see any other currency with the potential to replace it.