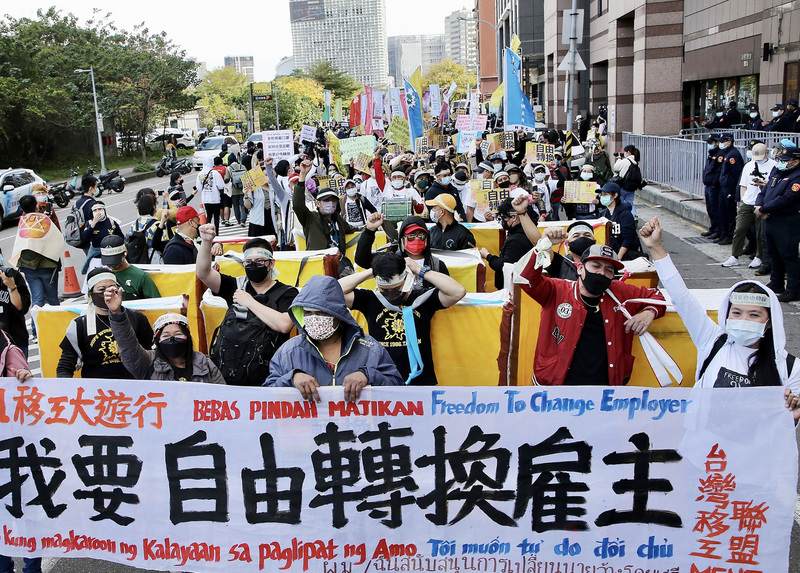 On Sunday, The Indonesian Workers in Taiwan Association (IPIT), Indonesian migrant workers' group GANAS Community, the Filipino Migrant Workers Alliance in Taiwan (KASAPI), and Domestic Caretakers Union called on the government to pass a household service act as soon as possible to protect the rights of migrant workers. With nearly 100 migrant workers carrying signs protesting "Long work hours, low salary, no days off," they rallied around Taipei Main Station chanting, "We want a household service act!"
The household service act would establish rest days for caretakers, the abolition of a maximum working period in Taiwan, and the eradication of the brokerage system.
Labor Ministry Labor Standards and Equal Employment Director Huang Wei-chen (黃維琛) said that the current employment service act stipulates formal labor contracts. Migrant workers should sign the contract, verified by the migrant worker's country of origin, with their employers before coming to Taiwan.
Huang added that the labor contract already stipulates that the employer should give a rest day for every 7 days. Furthermore, the salary, payment schedule, accident insurance and similar details are included. A violation of the contract can result in a fine and/or revocation of the employer's recruitment permit and employment permit. On top of this, the rights and interests of migrant workers are also additionally safeguarded by the Labor Occupational Accident Insurance and Protection Act.