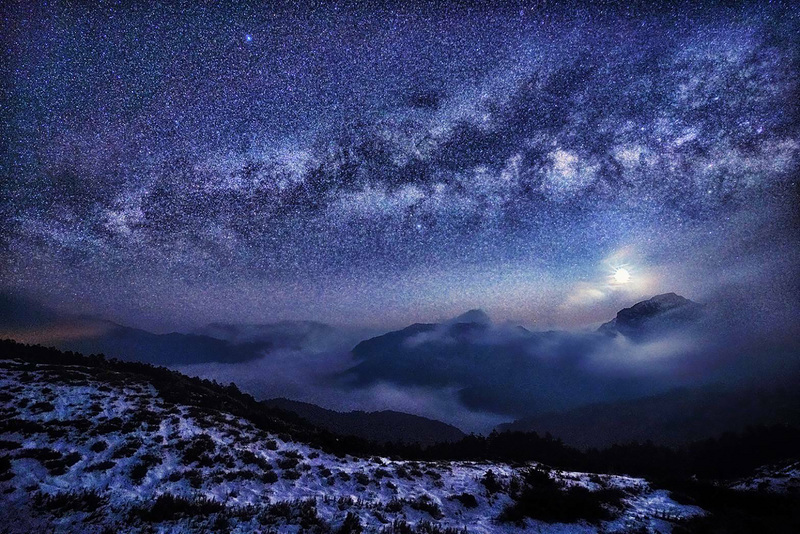 A lot of this light pollution is caused from the numerous LED signs found on the paths of Hehuan Mountain. Although the signs help guide visitors' way at night, their brightness may cause problems for the Dark Sky Park requirements.
A photographer says that he can reach Hehuan Mountain in one to two hours by car. He says he can appreciate the deep darkness offering fantastic views.
But, the LED lights are not only along the roads, but are also in some parking lots, like the Kunyang parking lot, which illuminates a bright red color throughout the whole area.
Also due to the construction of a military base, several areas are affected, greatly diminishing the quality of starry nights. This is a big problem for many tourists and photographers as Hehuan Mountain is the best place to observe stars.
Taipei Amateur Astronomers Association Chairman Liu Chih-an (劉志安) expresses his concerns as the situation has not improved. If the problem continues or worsens, Hehuan Mountain is at risk of not being able to adhere to the standards of the International Dark-Sky Association, and as a result, faces removal from the International Dark Sky Parks list.
The Highway Bureau explains that the LED signs were originally programmed to be active during the day and inactive at night. However, a system error seems to have occurred, and corrective measures are being taken.
Taiwan's jewel Hehuan Mountain faces a challenge as its Dark Sky Park status hangs in the balance. It is our hope that both the government and the public will join forces to protect this precious night sky, allowing Hehuan Mountain to remain a haven for stargazers.