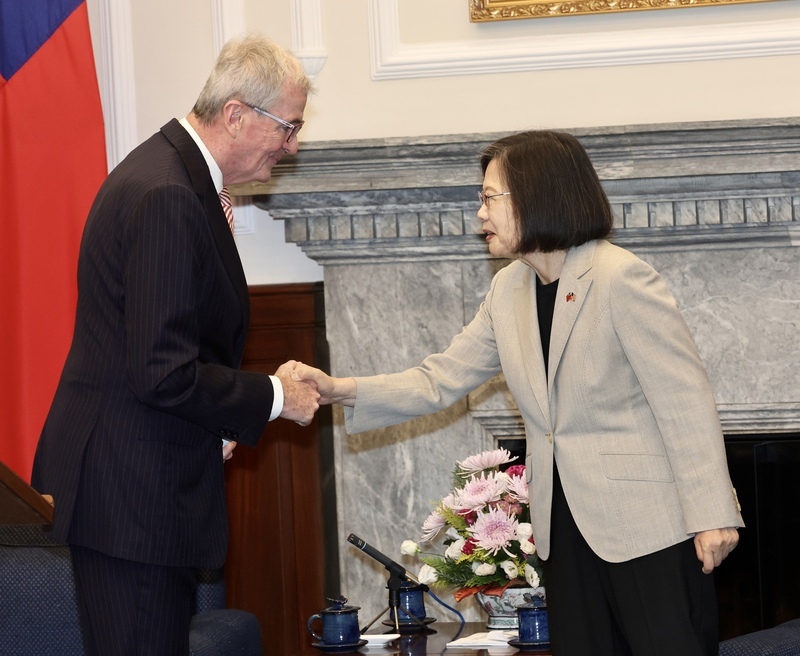 New Jersey Governor Phil Murphy met with Taiwanese President Tsai Ing-wen (蔡英文) at the Presidential Palace on Friday as he leads a delegation on a 4-day trip. Murphy also announced during his visit that New Jersey will open its first Asia-Pacific trade office in Taipei.
Tsai said during a speech at the meeting that New Jersey is a hub for important industries such as biotechnology and information technology. She adds that New Jersey can act as an entrance for Taiwan into the eastern U.S. market.
Tsai says the new Asia-Pacific trade office in Taiwan will help to further strengthen bilateral trade relations. She also thanked the U.S. House of Representatives and the New Jersey State Legislature for passing resolutions in support of Taiwan's international participation.
In his remarks, Murphy said that he is proud to be the first sitting New Jersey governor to visit Taiwan. He also says that the two sides have already collaborated in areas such as healthcare, biotechnology, and green energy. He says this will help to elevate the long-term relationship between the two sides, as well as strengthen their economic and cultural ties.
Beyond meeting with President Tsai, the governor's trip will include meetings with Taiwanese academic and business leaders and the signing of several memoranda of understanding (MOU) to promote bilateral trade and academic cooperation.