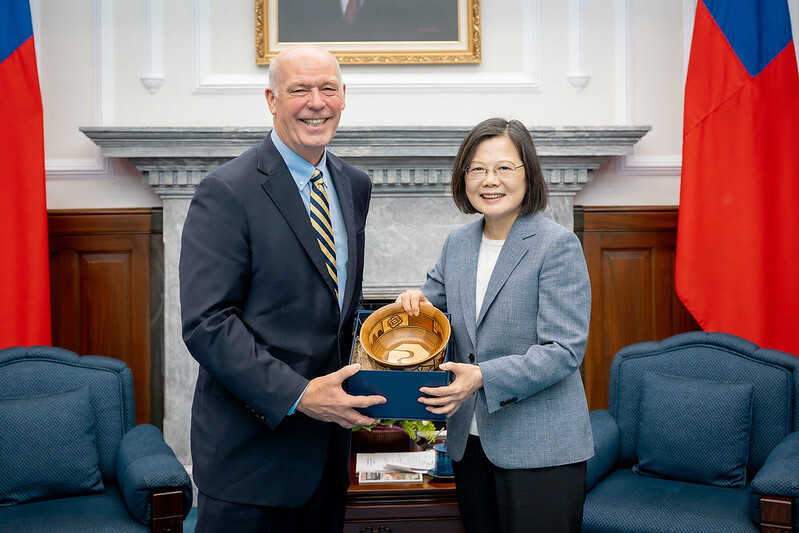 President Tsai Ing-wen (蔡英文) received a U.S. delegation of government officials and business representatives led by Montana State Governor Greg Gianforte on Tuesday.
In her speech to the delegation, Tsai thanked Gianforte for his decision to re-establish the State of Montana Asia Trade Office in Taiwan. She also expressed her gratitude to Montana State for passing a joint resolution in support of Taiwan's international participation.
Tsai points out that Montana State is Taiwan's seventh largest trading partner, with close collaborations in agriculture and tourism. She adds the state is experiencing burgeoning development in biotechnology, cloud computing, and aerospace industries. She says she believes that Taiwan's partnership with Montana State in the optoelectronics and semiconductor industry will continue to grow.
In his remarks, Gianforte stated that he values the partnership between Taiwan and Montana and believes the trade office will help create more business opportunities for both sides. He also said that the delegation will sign Memorandums of Understanding (MOUs) with the Taiwan-USA Industrial Cooperation Promotion Office (MOEA) and Photonics Industry and Technology Development Association (PIDA), hoping to deepen collaborations.
Tsai describes the delegation's visit as a significant step in reinforcing bilateral relations. She said she hopes the exchange and cooperation between both sides will continue long into the future.