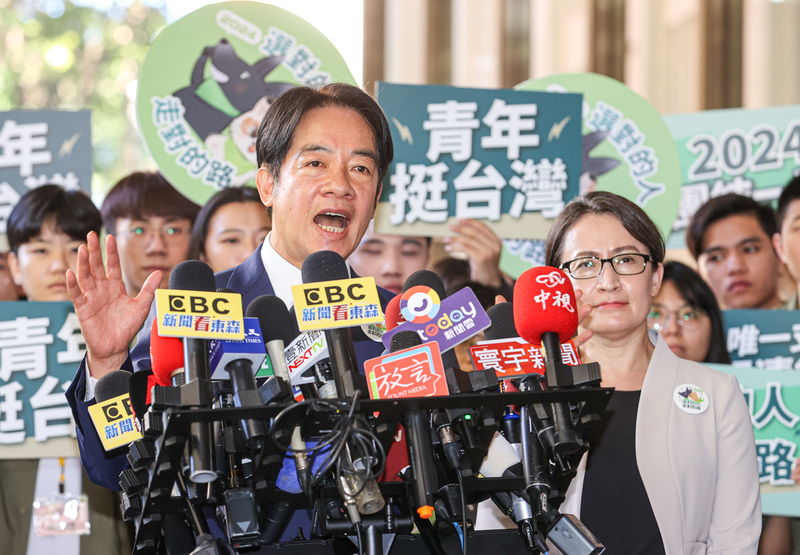 With Taiwan's 2024 elections on the horizon, the first pair of candidates have now registered with the Central Election Commission.
Video script:
Democratic Progressive Party (DPP) presidential candidate Lai Ching-te (賴清德) and his running mate Hsiao Bi-khim (蕭美琴) have registered for the 2024 presidential elections. They are the first pair to officially do so and pay the registration deposit of NT$15 million (US$480,000).
Lai says that they are committed to leading Taiwan on a stable path internationally and avoiding the old ways of the One China principle. The two of them arrived at the Central Election Commission (CEC) to register on Tuesday, with hundreds of supporters turning out. The pair donned their cat and dog badges symbolizing unity.
Hsiao said that she was feeling the pressure of the campaign. She said that she had only slept for about five hours since returning to Taiwan from the recent APEC summit. Hsiao's first campaign event will be held on November 26 in Hualien.
Lai and Hsiao plan to divide their campaign efforts, each focusing on different areas of the country. Campaign office leader for Taipei Chen Shih-chung (陳時中) said that the DPP's campaign team is ready to go. He said that the team is filled with people who care about Taiwan and are determined to win.
After registering, Lai and Hsiao will be provided with security by the National Security Bureau. A team of 55 security personnel, including several female officers, will be responsible for protecting Hsiao's safety.
Fil Leskovsky
Rti News