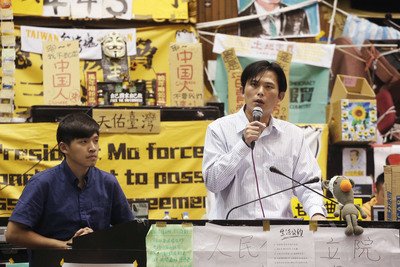 Taiwan's top research institute, Academia Sinica, is seeking to collect artwork by student protestors who have been occupying the legislature.
Student protestors took over the legislature on March 18 after a ruling party lawmaker attempted to pass a first reading of a controversial trade in services agreement with China. The students have agreed to leave the legislature at 6pm Thursday after promises from President of the Legislature Wang Jin-pyng to meet some of their demands.
During the three weeks of occupation, the students displayed a variety of posters and satirical artwork. An official with Academia Sinica, Wu Jen-leih, said on Wednesday that the protest art should be preserved.

"The student movement is drawing to a close," said Wu. "The materials that they will leave behind are documents of Taiwan's democracy movement and should be preserved; they are historically significant."