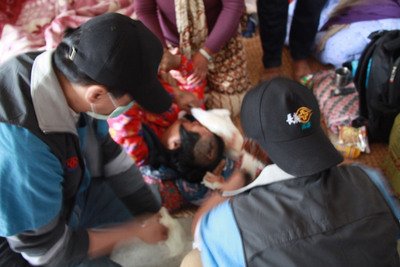 Foreign Minister David Lin announced Thursday that Nepal is considering a Taiwanese offer to send a search and rescue team to areas affected by Saturday's devastating earthquake.
Nepal had initially rejected Taiwanese assistance. But Lin said that the foreign ministry has already sent a list of 23 rescuers and information about rescue equipment to Kathmandu for consideration.
Teams of Taiwanese medics have been arriving in Nepal since Tuesday. On Tuesday, Taiwan also sent the first batch of rescue equipment to Nepal. The foreign ministry has chartered a China Airlines aircraft to transport rescue personnel and equipment to Nepal via India.
Meanwhile, the foreign ministry is also reporting that six Taiwanese travelers known to have been in Nepal at the time of the earthquake remain missing. The ministry has confirmed that 282 other Taiwanese nationals in Nepal when the earthquake struck are safe.