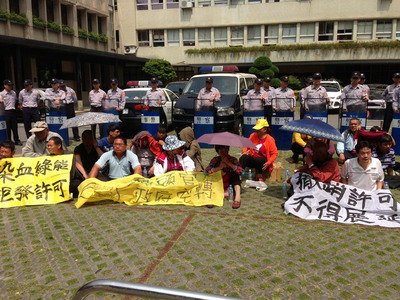 About 20 demonstrators stormed into the economics ministry complex Wednesday morning in protest of a controversial wind turbine project.
The demonstrators are residents of Miaoli County. They said the wind turbines have severely affected their quality of life. They also criticized the economics ministry for issuing wind turbine construction permits without consulting local residents. They said they are not protesting against wind power, but the fact that companies are allowed to install wind turbines wherever they want.
In response, an economics ministry official said that the ministry had already issued a company construction permits. He also said it will be very difficult to revoke the permits.
The demonstrators left after Vice Economics Minister Shen Jung-chin promised to hold a meeting next week, and also promised that no work will be carried out before the meeting reaches a conclusion.