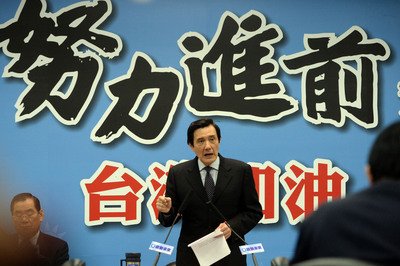 President Ma Ying-jeou says the draft bill aimed at monitoring cross-strait agreements must be reasonable, feasible and in line with the constitution. Ma was speaking Wednesday during a meeting of the ruling Kuomintang's Central Standing Committee.
Ma said while there is a consensus on introducing a mechanism or draft bill to better monitor and regulate cross-strait agreements, the draft bill must prevent the legislative branch from violating separation of powers.
Ma also said no mechanism or legislation should be retroactive. He said otherwise previously signed agreements cannot be implemented and this will hurt future cross-strait ties.
"[We] can review and improve previous agreements. As a matter of fact, the Mainland Affairs Council and the Straits Exchange Foundation are working on this every year," said Ma.
"However, don't throttle [government's attempts to sign a deal with China], otherwise we will not be able to do anything [in the future]. [We] won't get anything done if a sense of crisis dominates cross-strait relations," he said.
Ma said he hopes that the draft bill will be reviewed as soon as possible so that future cross-strait agreements will be under legislative review.