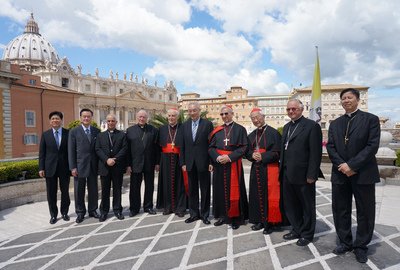 Vice President Wu Den-yih has concluded his trip to the Vatican. He left for Taiwan on Tuesday.
During his four-day visit to the Vatican, Wu attended the canonization ceremony of the late Popes John XXIII and John Paul II. Before returning to Taiwan, Wu had a luncheon with several cardinals, archbishops, and more than 20 priests who had visited Taiwan. The vice president said that the guests at the luncheon have all made contributions to Taiwan and their hard work deserves admiration.
The Republic of China on Taiwan and the Vatican have had diplomatic ties for 73 years.
Wu is the third vice president of Taiwan to visit the Vatican, after Lien Chan in 1997 and Annette Lu in 2002. Wu is scheduled to arrive in Taiwan Wednesday evening.