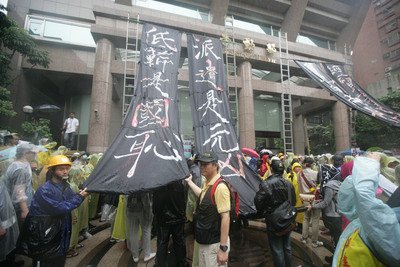 Premier Jiang Yi-huah says that the government will do all it can to meet the demands of Taiwanese working people. Jiang was speaking at the Cabinet on Labor Day. He thanked the people for their hard work and paid them his highest respects.
Trade unions and labor rights groups held a march in Taipei on Labor Day to protest low wages and temporary employment. The premier said the government will continue to listen to the people.
Cabinet spokesperson Sun Lih-chyun spoke on behalf of the premier. "The government has always been listening carefully to the voices of the working people," said Sun. "We are already working towards [meeting those demands]. We ask that the labor ministry and relevant ministries clearly convey the government's concern and ask for understanding from the public and laborers."
Meanwhile, some people in Taiwan are asking to reduce their working hours from 84 to 80 hours for a two-week work period. Vice Labor Minister Chen Yi-min said that the ministry will hold at least 30 sessions to discuss the issue with labor rights groups and the public. Chen wants to draft a plan to adjust the number of working hours by the end of the year.