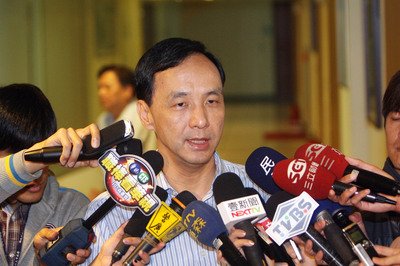 New Taipei City Mayor Eric Chu said that the ruling Kuomintang (KMT) party needs to reflect on public discontent and lead the country forward.
President Ma Ying-jeou has asked the mayors of Taipei, New Taipei City and Taichung to become deputy chairmen of the KMT. The president has asked them to take on this position so that they can inform him about public sentiment. There have been waves of protests lately on issues such as low wages, the fourth nuclear power plant, and a trade pact with China.
In an interview on Friday, New Taipei City Eric Chu spoke about how the party should respond to recent protests. "We need to reflect. In recent years, there has been a big gap between what the public wants and what the KMT has been doing," said Chu. "So we hope that our party can consolidate the central and local governments, the executive and legislative branches and public opinion to bring Taiwan forward. Recently we've seen constant protests and it's been disturbing the public. We hope that we can all work together to bring Taiwan forward to pursue what Taiwan wants."
Taichung Mayor Jason Hu also said on Friday that the president needs to have a better understanding of public sentiment.