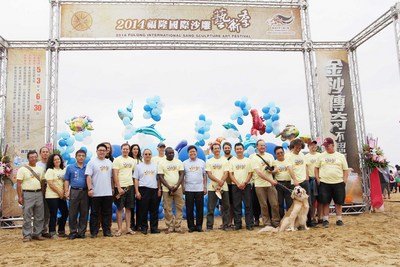 The 2014 Fulong sand sculpture festival opened on Saturday at a beach on the northeastern coast of Taiwan.
The festival highlights artists' aspirations for great journeys beyond time and space. The organizer said the themes include French writer Jules Verne's novel "Around the World in Eighty Days", Chinese mariner Zheng He's voyages, and even space travel. A total of 30 artists from 17 countries, including Canada, the United States, Italy, France, India, and Singapore, are participating in the festival.
The annual festival was held at Fulong beach for the first time in 2008. It attracted more than 450,000 visitors last year, and is expected to draw half a million people this year. The festival will run through June 30.